Party On!
Let us help you turn your next children's party or event into an adventure they'll never forget!
From private playtime on Jump's incredible inflatables and unlimited access to Jack's playground to your very own party room and host, you can have it all and more—it's up to you. Whatever experience you choose, our personalized party packages will blow their minds without blowing your family's budget. With any party reservation, you bring the kids and cake; we'll take care of the food and fun!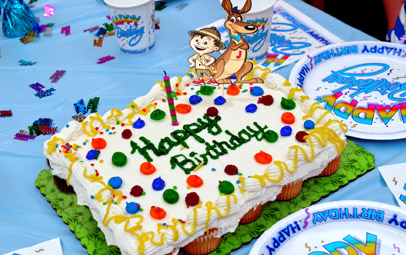 Planning a field trip, large group event, or fundraiser?
We've got you covered. Contact your nearest Jump & Jack's location to plan a truly memorable event.

SCROLL DOWN FOR IMPORTANT INFORMATION ABOUT PARTYING WITH JUMP AND JACK!
What Our Party Parents are Saying
"Thank you so much for all the help today with Skyelars party! Both our hosts were Amazing!!!!!

Great job all around!!!!

Thank you so much!" - Tricia
"I just wanted to let you know what a great time we had at my son's birthday party last weekend. Noah and Titus were our party hosts and they were fantastic, polite, super helpful and attentive. You don't always hear the good things, but wanted you to know we had a great time and we will be back!" - Karyn
"Everyone had such a great time tonight at our Cheer Party! I HIGHLY recommend any coach looking for a venue for their end of year party to have it at Jump & Jacks! 14 happy girls (and their siblings) got to play and eat lots of really delicious pizza for way cheaper than you'd expect! Thank you thank you thank you :)" - Francine
"I just wanted to take a minute to thank you and your staff for making Brenden's Birthday so much fun. I love the different activities your facility has to offer the kiddos. They had a great time. And your staff that helped with his party did a great job. Thank you so much! We look forward to visiting again soon. Have a great day!" - Sarah
"I just wanted to thank you for making my son's birthday party so special. Kate did a great job working with all the three year olds. I was so happy with the way everything was run. From lining the kids up to go from one event to the next, to washing their hands before eating, to making sure the kids got the pizza, drink, and cake they wanted. She cordinated the presents and even recorded what each guest brought. She made it look like keeping three year old's moving through the event seamlessly was easy. It made the party so much more enjoyable for my husband and myself because I didn't have to be the bossy mom. All of the kids had a great time too. I would highly recommend your facility for its cleanliness and attentive staff!!! We come often and will continue to do so.

Thanks again! "- Brenda
IMPORTANT PARTY RULES:
WE KNOW THAT SOMETIMES STUFF HAPPENS. IN THE EVENT OF AN EMERGENCY A PARTY MAY BE RESCHEDULED ONCE. IF A PARTY IS RESCHEDULED A SECOND TIME THEN AN ADDITIONAL $75 DEPOSIT WILL BE REQUIRED.
A PARTY RESCHEDULED WITHIN 5 DAYS OF THE PARTY DATE WILL BE CHARGED A $35 RESCHEDULING FEE.
AS A COURTESY TO OUR OTHER GUESTS, BRINGING CAKE AND OPENING GIFTS IS PERMITTED ONLY WITH A PARTY ROOM RESERVATION. IF NECESSARY, YOU MAY PROVIDE ALTERNATIVE FOOD TO ACCOMMODATE ALLERGIES FOR SPECIFIC INDIVIDUALS IF A SUITABLE MENU ITEM IS NOT AVAILABLE.
THANKS FOR YOUR UNDERSTANDING!