Where Imaginations Run Wild
There's nothing quite like Jack's Playground.
This multi-level indoor play paradise is big…really big. In fact, it's awesome. But that's not all. Jack's Playground is filled with tons of cool slides, climbs, and interactive elements that are sure to keep kids smiling as they move from adventure to adventure. Better still, this engaging, creative play will keep their minds firing on all cylinders as their imaginations run wild to keep up with their bodies!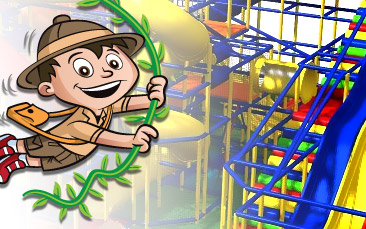 More About Jack's Playground
Jack's Playground is always open to the public, so when we're open for business, your family is welcome to have at it. And although the playground is intended for kids 3 to 11 years old, feel free to join them in the fun if you want. With appropriate adult supervision, toddlers can get in on the action, too. All we ask is that everybody wears socks, everybody plays safely and nicely with others, and that everybody has fun.
Walk-in Pricing
Adults are FREE!
Toddlers (crawlers through age 2) - $5 Every Day
Kids 3 and Up - $10 Weekdays & $12 Friday Nights & Weekends
10-Visit Multiplay Punch Pass - $60 (save up to $4 per child!) Toddlers are 1/2 a punch.
25-Visit Multiplay Punch Pass - $125 (save up to 50%!) Toddlers are 1/2 a punch.
Gift Cards Available!
Multiplay punch passes are the perfect money saving solution for repeat guests and those with multiple children. They do not expire and may be used by multiple kids. For example, a 10-visit card could be used for one child 10 times or 10 children one time, or any variation inbetween. They may be used anytime, 7 days a week. Trade in your completed punch pass for $10 off your next one!