Fresh Memories Made Daily
Great food makes great times even better, and at Tony's Pizzeria, there's always plenty to go around. Click

Here

to see our menu.
Our in-house restaurant has all of your family's favorites on the menu, from delicious handmade pizzas to kid-friendly staples such as hot dogs and chicken strips. Plus, we have gourmet coffees and sandwiches to suit more grown-up tastes. And because we want your family to enjoy its Jump & Jack's experience without being weighed down by greasy fried foods, all of our hot food items are baked to golden-brown perfection, never fried in oil. Nutritious fresh fruits and veggies, as well as milk and juice, are also on the menu to fuel the fun in ways you can feel good about.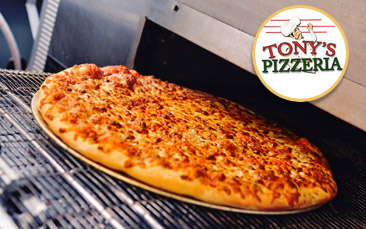 Tony's Pizzeria delivers good food at good prices to help you get the most from your Jump & Jack's visit. So, grab a table, share some laughs, and have fun making new memories time after time.
NO OUTSIDE FOOD OR DRINK PERMITTED. AS A COURTESY TO OUR OTHER GUESTS, EATING CAKE AND OPENING GIFTS ARE ALLOWED ONLY WITH A PARTY RESERVATION. THANKS!